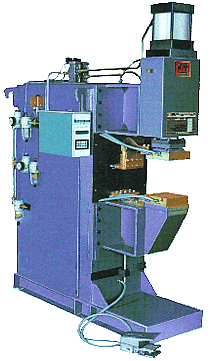 (AUTOMATIC PNEUMATIC & MANUAL)
DESIGN:
The Spot cum projection Welding passes a high current at low Voltage through the electrodes to the welding areas. As the machine cycles, exert pressure on the metal, a joint is formed and coalescence occurs. All the parameters are precisely controlled: Pressure by the air regulator. Time by electronic circuit and Current by transformer taps to perfect welding joint.
SALIENT FEATURES:
Six models between 30 KVA to 200KVA.
All operational controls-Air, Water and Electronics are machine mounted for easy access, Safe and Simple maintenance.
Study ram assembly permits high speed operation.
Weld sequence controller, sophisticated timer with squeeze, weld hold and off
Timing with single/repeat cycle facility, weld timing being controlled by
Thyristorized circuit heat controlled from 5% to 95%

N. B. In view of continuous developments, we reserve right to modify the design, dimensions,
technical data and weight without any notice.