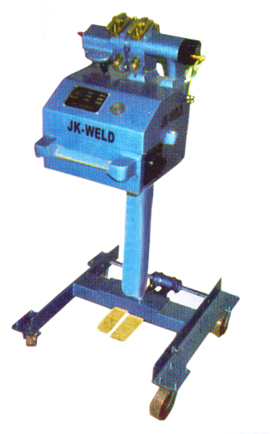 JK manufactures these efficient machines for butt-welding of all profile wire of Iron,Steel, Alloy and Carbon Steel, Copper, Aluminum, Brass and other light metals and their alloys.
These machines are designed as portable models mounted on a moveable stand with the foot operation. They are constructed with particular regard for quick and easy operating; the settings for electrode spacing and upsetting pressure are calibrated directly for the different wire size to be welded. The welding process being automatics permits even unskilled workman to operate the machines faultlessly, and ensures uniform welds of high tensile strength, capable of withstanding subsequent drawing.

Depending upon the material to be welded and the size wire four different models are available one model for iron and mild steel wire, one model for alloyed steel and carbon steel, and two for copper, brass, alluminium and light alloy wires. All machines are equipped with annealing facility.

N. B. In view of continuous developments, we reserve right to modify the design, dimensions,
technical data and weight without any notice.